Professional Aerospace and Automotive Translation
ENS Translate has been a leading translation company in the Aerospace and Automobile sector with years of experience serving the top notch automobile brands in the world. From translation of user manuals, service manuals to catalogues, technical bulletins, softwares, we have done it all.
START YOUR PROJECT
What are Aerospace and Automotive Translation Services?
Any text that needs to be translated in the Automotive industry comes under Automotive translation.
In modern world, one simply cannot do without automotive translations as the whole process from start to end has become multinational.
For a particular car to be manufactured, the parts come from a certain country, labelling is done in a different country, assembling is done in another country and sold in another county. This is a rigorous process that requires exchange of many documents in different languages.
Aerospace translation refers to the translation of text in the aerospace or defence industry. Technical translators play a very important role in aerospace industry due to the complex technologies involved. Security compliance and Quality Assurance has to be the top priority in aerospace industry.
A single mistake in the translation can lead to damage of expensive automobiles and aerospace equipments. Aerospace translation deals with the translation of documents / labelling associated with missile system, aircrafts, space shuttles, etc.
Eg: Automobile Manufacturer Story
An automobile manufacturer in USA had their operation running all over the word. All their cars got the parts from Germany, and the assembling was done in India. Between these two processes, there were a lot of documents that needed to be translated from German to English and viz-a-viz. For this, the company hired a translation company that took care of translation of these documents. The sales of the cars kept growing over the years which has made this automobile company one of the top manufacturers of cars in the world.
Who is it for?
Automotive Companies
Aerospace Companies
Airlines
Department of Defence of a country
Research labs
Aeronautical Industry
and more..
Related Services
Importance of a Good Aerospace / Automotive Translation Company
A good translation agency keeps up to date with the everchanging technology in the aerospace and automotive industry. It is standard practice among top translation agencies to have a confidentiality agreement with their translators as aerospace documents are contains sensitive information.
START YOUR PROJECT
Our Process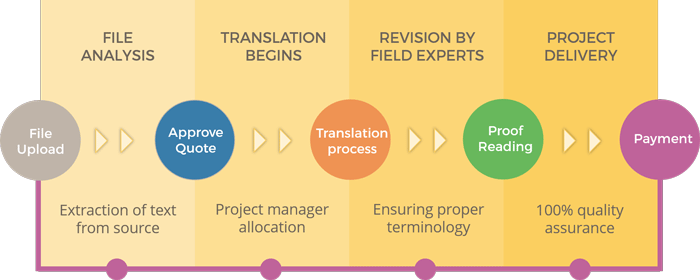 Why ENS Translate
At ENS Translate, we understand the nature of complexities in the automotive / aerospace industry. We know that the most important thing that is expected from us is maintaining the confidentiality and a very fast turnaround time.
With years of experience while working with some of the industry experts in automotive / aerospace industries, we have mastered the art of handling automotive / aerospace translation while keeping high standards of safety.
Our translators have been trained rigorously to meet the high standards of automotive and aerospace industries.
What can you expect from us:
On time Delivery of project
Special Focus on the safety and confidentiality
Translators up to date with latest technologies
Translators in more than 200 languages
The translators we have employed have subject expertise in Aerospace and Automotive field
ISO 17100:2015 – quality assurance
Accurate translation
Cost effective translation
Start Your Project in 3 easy steps
Fill out this 3 step form to get a quote for your project.