Professional Legal Translation
With clear understanding of the laws of all countries, we translate legal documents like birth certificates, wills, judgements, immigration papers, copyrights and much more into over 200 languages.
START YOUR PROJECT
What are Legal Translation Services?
Translation of any document that is related to the field of law is referred to as Legal Translation.
Law firms very often require a good translation agency to meet the translation needs of their clients who do not understand the native language. Also, many companies who expand their business to new countries have to hire a legal translation agency to make the registration process simpler and easy to understand.
Following are a couple of examples for better explanation.
Corporate Story
After months of brainstorming, the board of directors of a London based company decided that they should enter the German market by opening 2 new offices in Berlin and Hamburg. The foremost thing for opening an office was to get all the paper work done in German language. For this they hired a legal translation agency who got all their paperwork translated from English to German. The transition was so smooth that after 2 years they are now deciding to open two more offices in Bavaria and Saxony.
Francois's Story
Francois, who was living in France got a job offer from a multinational company in USA after graduating from the top engineering college in France. Francois accepted the job offer and immediately found a legal translation agency who was well versed with both the laws of France and America to get his birth certificate, marriage certificates, passport and all other documents translated in a hurry. The translation agency did a great job and John joined his new job. Francois is now a senior manager in the company and has brought a house of his own in Chicago.
Who is it for?
Companies
Non Government Organization
Law firms
Accounting Firms
Anyone who needs to get some official documents translated.
and more...
START YOUR PROJECT
Related Services
Importance of a Good Legal Translation Company
Legal Translation is a field where confidentiality and accuracy with clear understanding of laws of different countries. The nature of most of the legal translations are to be handled with utmost sensitivity as small mistakes could amount to big loss in terms of poor judgement in court, lawsuits, loss of money, etc. With each country having their own law, extensive knowledge of these laws becomes mandatory for a translation agency.
Our Process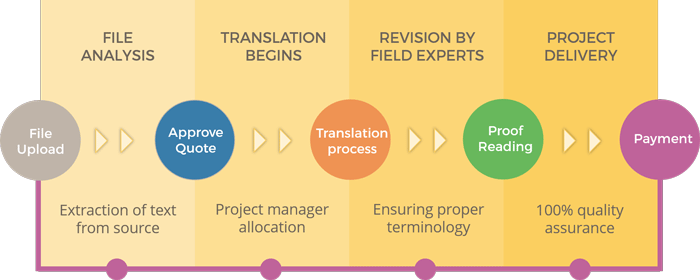 Why ENS Translate
We understand the importance and complexity of the legal translation as a single mistake is is like taking law into our hands. This is the reason that we make sure that each and every word in the translation is 100% accurate. To ensure this we make sure each and every translation goes through multiple session of editing and proof reading before we deliver your project back to you.
What you can expect from us:
On time Delivery of project
Professional translators for each and every language
The translators we have employed have subject expertise in Legal field
ISO 17100:2015 quality assurance
Accurate translations with the meaning clear as crystal.
Our translators understand legal terminology
Cost effective translation
We keep the confidentiality of the translation
Start Your Project in 3 easy steps
Fill out this 3 step form to get a quote for your project.