Professional Magazine Translation
Magazines are the best way to highlight a company's achievements and to communicate with the masses. ENS Translate has been translating magazines and catalogues for many companies in over 200 languages across the globe.
START YOUR PROJECT
What are Magazine Translation Services?
Magazine Translation refers to the translation of articles in magazines. The purpose of magazine is to effectively highlight a company's services through brilliant articles and catchy images.
Accurate and culturally sensitive translation of the magazines can lead to increase number of readers which in turn will lead to more client base. Companies from all sectors have their corporate magazines which just tells about the history, services, management, etc of company.
Magazines and catalogues are the great tools to market your products. Efficient translation is required for clear communications.
Usually magazine translation is not a one time job but a recurring one as most magazine comes out on weekly or monthly basis.
Eg: Story of a Fashion Magazine
A fashion house in France (name not shown here) gained wide popularity over the years due to their work in the field of men's fashion. They wanted to enter the German market but without taking any huge risks. So they decided that before entering the German market they will publish their magazine in German and see the response. They got the magazines translated in German and the response they got from the people was overwhelming. Without taking much time they decided to open a showroom in Berlin. The brand was well accepted by people and has now become one of the leading fashion house for men's clothing.
Who is it for?
Multinational Companies
Publishing Houses
Media Houses
Clothing Companies
Hospitals
NGOs
Government Departments
Travel and Tourism Companies
Marketing and Advertising Firms.
and many more..
START YOUR PROJECT
Importance of a Good Magazine Translation Company
Magazines usually require quite a lot of technical expertise as there are many technical magazines in the market. Nowadays, automobile sector are becoming quite active in publishing their magazines to showcase their latest products. A professional translation agency is a must as your magazine reach millions of people across the globe.
Our Process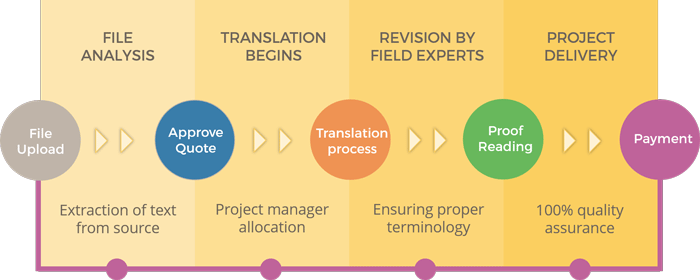 Why ENS Translate?
At ENS, we have a wide network of native language translators who are trained extensively and have years of experience in translating magazines, catalogues, newsletter, etc. We Understand the importance of accurate translations as we know that the magazine establishes the brand image of a company. Inaccurate translation can seriously hamper the image of a brand, especially in case of magazines where everything depends only on the quality and language of content.
The translated text should complement the graphics and images associated with it. To monitor this, we have a team of proofreaders who have an eye for errors and do not let any mistake go unnoticed.
What you can expect from us:
On time delivery of project
Native Translators of over 200 languages.
ISO 17100:2015 - quality assurance
Accurate translation with the clear meaning and easy language.
Cost effective translation
Confidentiality
Start Your Project in 3 easy steps
Fill out this 3 step form to get a quote for your project.