Professional Medical Translation
At ENS Translate, we employ native translators who have years of experience in medical field of translating medical documents like patient reports, clinical documents, regulatory documents, etc in over 200 languages.
START YOUR PROJECT
What are Medical Translation Services?
Medical Translation refers to the translation of documents, books, softwares, websites, user manuals and videos within the field of healthcare.
Many patients travelling to different countries for medical treatment require their medical history to be translated into the native language of the country where they will undergo the treatment.
Multinational pharmaceuticals companies get the literature and labelling of their products translated into the native language of the country they want their products to be sold.
Medical Translation also includes translation of training curriculum, clinical, regulatory, technical & marketing documents for the pharmaceutical, medical equipment or healthcare companies.
Eg: Pharmaceutical Company Story
A USA based Pharma company wanted to introduce a medicine in German Market where majority of the people understand only German. They hired a professional medical translation agency which translated complex information like salt name, generic name, etc. It was very important that the translation was 100% accurate as a single mistake in salt name could change the whole use of medicine. This was done successfully and the medicine gained widespread acknowledgement across the country.
Eg: Kevin's Story
Kevin who is a resident of Kenya was being treated for Cancer. As his condition severed, his doctor suggested that a surgical intervention was the only option and the best place for operation would be in America. Kevin immediately decided to go to New York and hired a medical translation company who translated all his prescriptions and medical history in correct English. This helped the surgeons in New York understand Kevin's case without any miscommunication. After a successful operation Kevin has become Cancer free and is living happily with his family in South Africa.
Who is it for?
Pharmaceuticals companies
Insurance companies who get hundreds of medi – claim forms everyday from different nationalities
Patients
Medical equipment companies
Hospitals
Clinical labs
Biotech company
NGOs
Medical companies planning to expand to other countries.
and more..
START YOUR PROJECT
Related Services
Importance of a Good Medical Translation Company
Given the life and death nature of medical texts, there is a strong emphasis on translation quality. We believe that your medical translation content needs to be understood without any error by users and patients. Only a professional agency with years of experience should be hired because medical documents are highly sensitive in nature and a small error in translation can lead to wrong treatment.
Our Process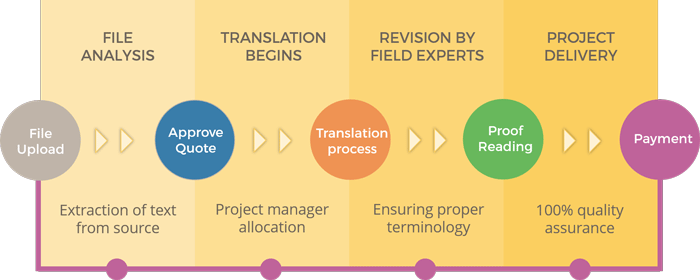 Why ENS Translate?
We at ENS Translate have a dedicated team of translators and medical professionals who understand the sensitivity of medical translations. We understand that a small mistake in translation of medical document can lead to wrong treatment.
For this reason, we do thorough translation and before delivering it to you, we make sure the translations have gone through numerous sessions of proofreading leaving no margin for error.
What you can expect from us:
Proven track record of delivering each and every project On Time
100% accuracy in translations
Native Translators for each language having immense experience in healthcare sector
ISO 17100:2015 quality assurance
Dedicated Manager for your project
Cost effective translations.
Healthcare experts like physicians, pharmacists to assist the translator.
Start Your Project in 3 easy steps
Fill out this 3 step form to get a quote for your project.