Professional Marketing and Advertisement Translation
Marketing and Advertisement are the two tools that takes your brand to the customers. One of the most challenging task to take your brand in the global market is international communication that is culturally sensitive. Having native language translators for over 200 languages we translate brochures, advertisements copy and much more.
START YOUR PROJECT
What are Marketing and Advertisement Translation Services?
Translation of any documents or script that will help in establishing your brand in global market is referred to as marketing and advertisement translation. Marketing and advertising companies lay strong emphasis on hiring a translator agency having years of experience and successful records of handling translations.
Korean Electronics Company's Story
A Korean electronics company wantes to launch their premium mobile phone in Germany. They were facing a major problem due to the communication gap and lack of knowledge of German Market. They wanted to convey the features of the phone in simple German so that the German people were able to connect with the product. To make this easier, they hired a professional marketing and advertising translation agency who was well versed with both Korean and German Language. The translation of all the brochures and guides was successful. The phone became a hit in the German market and is now one of the top three phones sold in Germany.
Who is it for?
Advertisement Agency
Multinational Companies
Marketing Firms
Media Houses
Digital Marketing Agencies
Social Media Channels
Websites
Small and Medium Enterprises
and many more..
START YOUR PROJECT
Related Services
Importance of a Good Marketing and Advertisement Translation Company
A small error in marketing and advertising translation can take an established brand down the drains. A good marketing translation agency is the one who treats their client's brand as their own. The translation agency has to be very cautious while doing a translation, as errors can make the content culturally insensitive damaging the reputation of the brand.
Our Process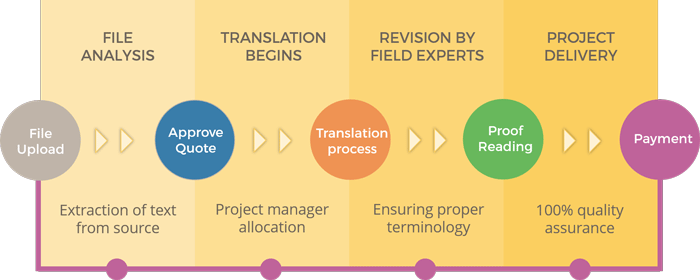 Why ENS Translate?
At ENS Translate, we handpick the translators who have been working for years in marketing and advertising translation industry. We understand that marketing and advertising of any brand means that the brand's image is at stake.
We make sure that through our screening process of the source file, we establish the correct meaning of the text that needs to be translated. Our focus is not just translation of words but also to make the translation more culturally appropriate and communicating. We have years of experience in serving clients in marketing and advertising sector.
What you can expect from us:
On time delivery of project
Thorough screening of the source text
The translators we have employed have subject expertise
High focus on culturally sensitive text
ISO 17100:2015 – quality assurance
Accurate translation with the easy terminology
Cost effective translation
Quick and reliable services
Maintaining the meaning of the source document
Start Your Project in 3 easy steps
Fill out this 3 step form to get a quote for your project.