Professional Technical Translation
ENS Translate has a wide network of professional translators who understand the significance of technical translation. Having undergone months of technical training by industry experts, our engineering and technical translators are one of the best in the world. We translate user guides, service manuals, researches, etc. in over 200 languages.
START YOUR PROJECT
What are Technical Translation Services?
Technical translation refers to specialized translation of technical documents like service manuals, user guides, etc. It requires immense knowledge of different subjects and technologies to successfully translate a document.
Technical translation services are sought by many aerospace and automotive industry as their entire work is based on technology and the all the documents they have are highly technical.
Legal firms, Pharmaceuticals Companies and hospitals are some of the regular clients of a technical translation agencies because of the terminologies used in these fields which can only be translated by a professional translator having subject expertise.
Eg: Research Institute's Story
After years of research, a research institute (name not mentioned here) based in India published a study that could be a breakthrough in the field of healthcare. They wanted to publish this study all over the world so that everyone could benefit from it. They hired a technical translation agency who worked round the clock to translate this research using the correct technical terminology in many languages. The research was published in 38 countries across the world and received lot of citations.
Who is it for?
Pharmaceuticals companies
Automotive and Aerospace Industry
Hospitals
Research Labs
Software Firms
Manufacturing Plants
Clinical Labs
Aeronautical Companies
and more...
START YOUR PROJECT
Related Services
Aerospace and Automobile Translation
Importance of a Good Technical Translation Company
It is must for a technical translator to have a solid technical background with vast knowledge and training. It takes a very dedicated team to translate a technical document as there is no space for error.
Our Process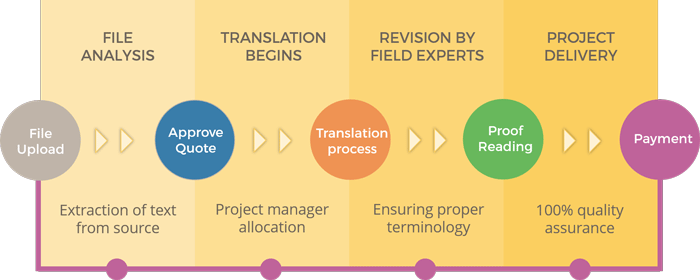 Why ENS Translate?
We have a dedicated team of native translators who have gone through intense training programs in specialized technical fields. We have a track record of doing translation in over 200 languages for many engineering and technical companies all over the world. Your translation won't be done just by a single translator, but by a team of technical translators followed by multiple sessions of proofreading.
What you can expect from us:
On time delivery of project
Cater to all the departments in a business.
Native translator who keep in mind the cultural sensitivity
ISO 17100:2015 – Quality Assurance
Accurate translation
Multitier quality assurance to deliver the perfect translations.
Experts Translator for each department in a business.
Cost effective translation
Confidentiality
Start Your Project in 3 easy steps
Fill out this 3 step form to get a quote for your project.