Professional Business Translation
As the economies are developing in the world for the last couple of decades, more and more people are switching from jobs to businesses. Established businesses are becoming multilinguistic by expanding their operations in different countries. We help businesses by meeting all their translation needs for regulatory documents, reports, websites, training, etc.
START YOUR PROJECT
What are Business Translation Services?
Business Translation refers to the translation of documents and websites for multinational companies and startups. Many Small and Medium Enterprises (SMEs) seek professional business translation agency to ensure that their documents, marketing materials are translated accurately.
The first world companies are eager to get into untapped market of developing countries to expand their business. These companies require a professional translation service who understand the language of these new markets and have native translators having expertise in translating all kind of documents.
Eg: Cooking Appliance Company's Story
A cooking appliance company (name not mentioned here) who has been an industry leader in China for almost 120 years decided to expand their business to the middle east. Due to the culture and language difference, they were a bit skeptical about entering the middle east market. Keeping their doubts aside, they hired a translation agency which bridged the gap between both the cultures and languages by providing them accurate information and translation of all the documents they required for entering the new market. These were office registry documents, regulatory documents, product catalogues, marketing material, etc. Within 3 years this company became one of the top name in cooking appliance in Middle East Asia and are now planning to establish their business in 6 more regions if the world.
Who is it for?
Small & Medium Enterprises (SME)
Multinational Companies
Partnership firms
Start ups
Online Portals
NGOs
Proprietors
Government departments
and many more..
START YOUR PROJECT
Related Services
Importance of a Good Business Translation Company
It takes years to build a business but it takes a small mistake to fall it down. A translation company must work with these businesses as a partner and treat it as their own. A business translation company should have native translators along with field experts to meet the translational needs of legal, finance, toursim, technical industries.
Our Process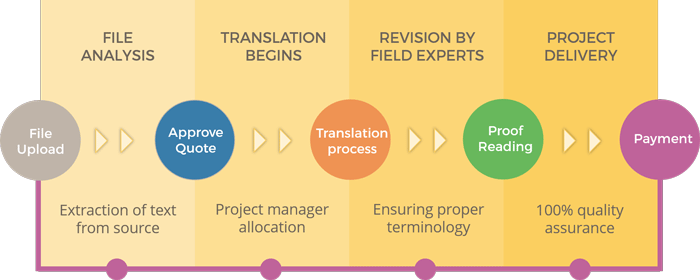 Why ENS Translate
We have been catering to the needs of not just big companies but we have also been providing services to many small and medium businesses as well. We have years of experience working with different businesses at all levels. Many businesses all over the world rely on us for their translation needs.
We cater to all the aspects in a business from human resource, finance, accounts to marketing and technical departments. With a wide network of expert translators in over 200 languages, we can translate any document from finance statements, reports to media kit or any other text document.
What you can expect from us:
On time delivery of project
Native Translators of over 200 languages.
The translators we have employed have subject expertise in your field
ISO 17100:2015 – quality assurance
Accurate translation with the meaning clear as crystal.
Cost effective translation
Start Your Project in 3 easy steps
Fill out this 3 step form to get a quote for your project.