Professional Finance Translation
At ENS translate, we do precise translations of financial statements, mutual funds reports, banking studies and much more in over 200 languages.
START YOUR PROJECT
What are Finance Translation Services?
Finance translation is the translation of documents used in the banking, retail and investment sector. As banks and investment companies have become multinational, the demand for a professional finance translation company has been going up. Large focus is given on accuracy and confidentiality when it comes to finance translation.
A German Startup Story
An Australian company decided to invest some of its capital in a German startup. Due to these investments the German startup, increased their operation in Germany and eventually grew from a startup to a multinational company. The German company hired a full time translation agency to translate all their financial reports in English and send it to their investors. This made the communication very easy and the australian company has been very happy with the result and is now thinking of raising the investment.
Who is it for?
Banks
Investment Companies
Account department of multi national company
Individuals
Small and Medium Enterprises (SME)
Government bodies
Individuals
Investors
and more...
START YOUR PROJECT
Related Services
Importance of a Good Finance Translation Company
It is important for a finance translation company to have intense knowledge of financial and tax system of all the countries. Specifically, in case of banks, a minute error can affect the revenue system and the loss is not just limited to banks but affects the common person as well.
Keeping all these consequences in mind one has to be very sensible and responsible for doing finance translation.
Our Process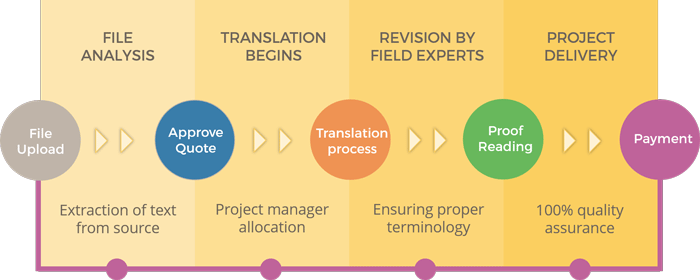 Why ENS Translate?
We make sure that the translation we do are 100% accurate and we make it go through thorough proofreading so that the project delivered to you is without errors.
The translators at ENS have a great sense of responsibility and understand the complexity of finance translation.
What you can expect from us:
Delivery of project on time
Highly Qualified Translators
Highly competent in the field of finance
ISO 17100:2015 quality assurance
100% accurate translation
Cost effective translation
Start Your Project in 3 easy steps
Fill out this 3 step form to get a quote for your project.