Professional Travel and Tourism Translation
Tourism industry has expanded in the last couple of decades due to massive growth in the global economy. Nowadays, people want to work hard and vacation harder. Understanding this, we work round the clock to make your vacation pleasant by translating brochures, magazines, maps, travel guides and much more .
START YOUR PROJECT
What are Travel and Tourism Translation Services?
Travel and Tourism translation refers to the translation of any document that would help a tourist to make his journey comfortable.
These documents can be anything from brochures, tour leaflets, maps to itinerary schedule, books or travel guides. With over 1 billion people travelling every year for leisure, the demand for a quality translation services has been going up.
These last two decades have given a boost to the unexplored field of travel and tourism translation.
Travel Agency's Story
A travelling agency in Britain was one of the top translating agency in the world. They wanted to extend their operations in Germany. They hired a professional translation agency for getting all their English written brochures, magazines, travel guides, marketing material and the website translated to German.
Christina's Story
After completing college, Christina went for a vacation to Japan with her friends. On reaching Japan, she found that every brochure, map and magazine is in Japanese. She felt that this would make her trip very difficult so she straight away went to a translation agency and got all these important documents translated. It became easy for her to communicate and travel in Japan. It was one of the most memorable trips of her life and she still remembers it after years.
Who is it for?
Travel and Tourism Agencies
Online Portals for Tourism
Tourists and Travellers
Tourism department of countries
Multi National Companies
and many more...
Related Services
Marketing and Advertising Translation
START YOUR PROJECT
Importance of a Good Travel and Tourism Translation Company
It is important to have good travel and tourism translation services because incorrect translation can be a bad experience for the traveller. A strong emphasis is laid on accuracy as the maps and brochures need to be correctly translated so that the traveler can plan his itenary properly. A good Travel and Tourism Translation company maked sure that tone of the source text should not be lost in translation process.
Our Process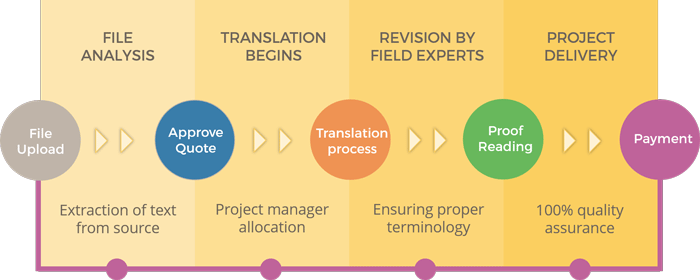 Why ENS Translate
We, at ENS Translate understand that your leisure time is as important as your work time. We believe if you don't have a good leisure time every now and then, it is bound to take a toll on your work life.
Working with travel agencies accross the globe, we strive to make your vacation a perfect one by providing you translation services with great simplicity and fast turnaround time.
What can you expect from us:
Fast turnaround time with previous record of meeting deadlines every time.
Native Translators for more than 200 languages across the world.
Use of easy and friendly native language
ISO 17100:2015 - quality assurance
Accurate translation with easy language.
Cost effective translation
Start Your Project in 3 easy steps
Fill out this 3 step form to get a quote for your project.